When selecting piano lesson books for beginner players it's important to think of piano music as a language. When starting out with piano you will continually improve upon your musical vocabulary and add additional compositions and technical exercises as you become more advanced.
As you begin to excel in your practice you will notice many improvements from instrumental training on the piano. some of these benefits include increased hand eye coordination, the ability to see the difference between notes while simultaneously playing notes, and the gradual improvement of your fine motor skills. Many people have noticed that piano instruction contributes to a sharper mentally acuity that can increase with each lesson.
Piano Method Books
There are many great piano method books on the market today. Some have been used for years and have been proven effective. Here are my top picks and recommendations for beginner piano learners.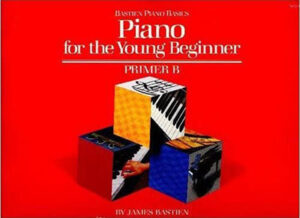 Bastien Piano for the Young Beginner – Primer B
Written especially for the young piano student this book uses a multi key approach to teach children how to play the piano.
The book is fully illustrated and includes a variety of music styles. The books learning sequence is carefully graded to foster steady learning progression.
The Bastien Piano for the Young Beginner – Primer B is 48 pages and includes Introductory text, instructional text, simple piano notation, fingerings, lyrics, harmony part (for the teacher) and illustrations.
Click Here to Buy Bastien Piano for the Young Beginner – Primer B (sponsored link)