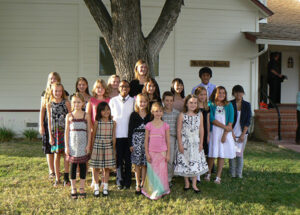 Lessons and Courses
Individual lessons with instruction designed to fit your child's needs and interests. Piano students will work toward these goals:
1. Comprehensive Musicianship Lessons will include theory, technique, sight-reading and performance preparation. Music literacy and independence is key to building confidence and self-assuredness.
2. Creativity The very act of playing a piece is creative. Creativity is also explored through composing, harmonizing, and performing with one's own personal interpretation.
3. Enjoyment Above all, students should enjoy the music they create! Piano students should be able to derive self-satisfaction from their playing. Materials and books are chosen for each individual student to ensure the highest level of excitement possible.
4. Discipline and Poise In order to achieve progress, regular disciplined practice must take place. Poise is developed through the frequent recitals.
5. Goal-Setting Strategies Through Mrs. Sherborne's unique teaching strategies, students will learn the process of setting and meeting goals. This art is transferable to all other aspects in life.
Group Lessons
In addition to individual lessons, students will attend group lessons scheduled throughout the year. In these lessons, your child will have the opportunity to perform before his/her peers in a comfortable setting, be introduced to composers' lives and music, and review music theory taught during the lesson. There are no private lessons the weeks that group lessons are scheduled.
Performance Opportunities
Recitals and performances are scheduled throughout the year to provide an opportunity for students to share their music with others. This also helps build the student's self-confidence. In addition, there are opportunities for students to participate in the community and in local, district and state competitions, recitals, and festivals.
Parental Involvement
The amount of time and interest you show in your child's development directly affects his/her progress. To help your child grow: 1. Establish and maintain a regular practice routine for your child. Younger children will need more supervision to be certain instructions are understood and followed. 2. Take time during the week to have your child perform for you. 3. Have your child teach you! Concepts such as proper hand position, posture, rhythms, or the location of notes are best reinforced by teaching.
Registration
Registration information and further information on lessons may be obtained by email at Alexis@PianoObsession.com or phone Alexis at 916-510-1575 or 925-783-4147. Students are considered on the basis of background, interest, and schedule.
About the Instructor
Alexis Sherborne's love of music began at a young age and led to countless musical performances, choral groups, piano competitions, and even playing in the percussion and tuba sections in her high school and university wind ensembles.
Her love for music expanded into teaching it to others. Alexis Sherborne has enjoyed many years providing music education to children on both coasts of the United States. After receiving her Bachelor's Degree in Music Education from the University of the Pacific in her home state of California, in 2000, she relocated to North Carolina. She was the director of the Cultural Arts program at an elementary school in Tarboro, North Carolina. Becoming involved in her new community, Alexis also joined the faculty of the East Carolina Music Academy teaching private piano lessons.
Since moving back to Northern California in 2002, Alexis has been an active teacher and musician in the area. Her programs included General Music for grades Kindergarten-5, Choirs for grades 3-8, and Bands for grades 5-8 in the Brentwood Union School District and Knightsen School District. She taught band and 4th and 5th grade music at Loma Vista Elementary School.
Mrs. Sherborne has studied with Frank Weins of the University of the Pacific as well as Sally Drefke Wilson and Louise Savage. Alexis was chosen to perform piano works for Pulitzer Prize winner George Pearle. She also performed the world premier of Daniel Kingman's works.
"Music is the universal language of mankind." ~Henry Wadsworth Longfellow
For more information about piano lessons in El Dorado Hills, California please contact:
PIANO STUDIO OF ALEXIS SHERBORNE – 916-510-1575 or 925-783-4147